This year, Stride K12 and The Nature Conservancy encouraged students in grades 9-12 to solve some of our planet's most pressing environmental issues in the 2023 K12 Innovation Challenge.
Students selected one of the following categories to address and solve an environmental related problem.
Carbon Emissions
Helping People
Our Ocean
Healthy Lands
Fresh Water
Local Leaders
This challenge enabled high school students from across the country to battle it out at K12 Headquarters for a chance to win a $5,000 scholarship! In addition, a People's Choice Prize was awarded for the presentation that received the most votes.
With that being said, we are excited to announce the winner of our 2023 K12 Innovation Challenge, Sharana Sabeson and Laibah Ahmed, from team CoCo Reef!
Help us congratulate the overall winning team below:
2023 K12 Innovation Challenge Winning Team "CoCo Reef"
(Sharana Sabesan and Laibah Ahmed) pictured with Stride CEO, James Rhyu
Sharana is an 11th Grade student from Impact Academy of Arts and Technology High School and Laibah is a 12th Grade student from K12 Private Academy. Together, Sharana and Laibah developed their proposal called Coral of Tomorrow that addresses and solves the problem of dying coral in our oceans.
Sharana and Laibah say that the primary cause of dying coral is thermal stress and acidity. Their solution? Future proofing coral that would be made possible by their novel growth process of micro-fragmenting coral, specially adapted to withstand high temperatures and acidity, grown directly on substrates.
The members of Team CoCo Reef each won a $5,000 scholarship! Click here to learn more about team CoCo Reefs' ideas and solutions.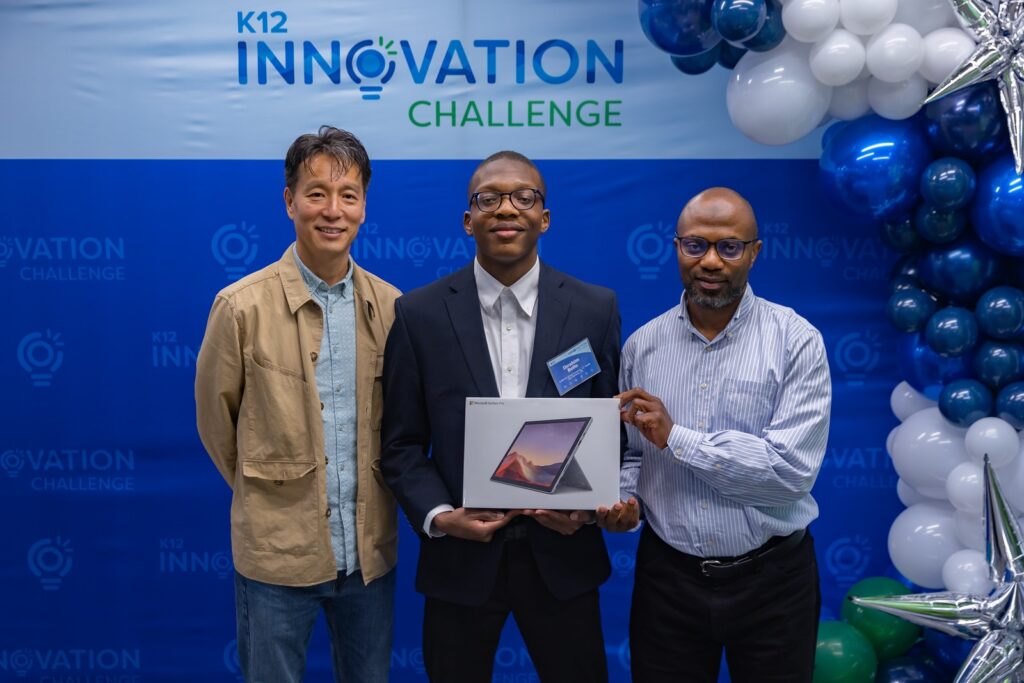 2023 K12 Innovation Challenge People's Choice Award Winner,
Ibrahim Bello, pictured with Stride CEO (left) and father (right).
You might recognize our K12 Innovation Challenge People's Choice Award winner… Ibrahim Bello! Not only did Ibrahim win the People's Choice Award and a brand-new Microsoft Surface Tablet, but he also won 3rd place in the 2023 K12 National Spelling Bee!
Ibrahim is an 11th Grade student from California Virtual Academy. He developed his proposal titled H2Green: Sustainability through Conservation which utilizes water faucets with a built-in meter to help monitor water usage. The meter would have a display that shows the user how much water they have used.
Ibrahim said, "Wherever this solution is used, it will help eco-conscious people know how much water they are using, reduce their water consumption, and ultimately conserve freshwater, our most precious resource".
Want to hear more innovative proposals from our finalists? Click here to watch the presentations from our finalists!
Explore ways you can get involved with The Nature Conservancy here.
Questions related to our student competitions? Email us at [email protected].